Want to win more leads?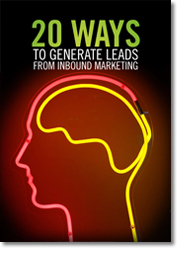 Inbound marketing is changing the way companies win business. It's a strategy that allows you to generate new leads, instead of having to create fresh demand for your product or service.
In our eGuide 20 Ways to Generate Leads With Inbound Marketing we share 20 quick, practical ways your business can generate leads and revenue through inbound marketing.
In this free eGuide, you can learn about:
Steps to take to draw new customers towards you – instead of you finding them
The changes in the way people buy and recommend products and services
How to create powerful conversations that lead to sales conversions
The value of leveraging social media to win more business
Just fill in the form to download your free eGuide now.